The Paisley Dis-Patch June 2021 Newsletter



Hi Friends,
A few days ago I heard someone ask, "why does it seem that time goes by faster, the older you get?" Boy, I thought, that's a really good question. It's right up there with asking why it feels like it takes longer to get to a certain destination than the return trip home. You know what I mean. They're the kind of questions that are valid but have no real explanations.
While time eludes the 5 senses (hearing, smell, sight, taste, and touch) it is one of those intangible commodities that everyone is blessed with. No matter what we look like, where we live, our income, occupation, or hobbies, we all get 24 hours, 1440 minutes, or 86,400 seconds per day to spend as we wish. Extra time isn't for sale at the closest store (if it was, they'd constantly be out of stock, LOL). We can't trade unused time for other goods. We can't eat it or wear it. But it sure can be wasted.
For a while now I've been binge-watching one series of television shows after another on various networks, then kicking myself for not doing something more productive with all that time I've squandered sitting in front of my TV. I've come to realize the producers know exactly where to insert a cliffhanger to make me want to watch the next episode instead of tending to my to-do list. Admittedly, I've always had a tendency to procrastinate important activities that bring much more satisfaction than cheesy entertainment. By some miracle, though, those other things do get done.
Each year I tell myself I'm going to start Christmas shopping a couple of months earlier than the previous year so I'm not stressed about getting packages delivered in time for the holidays. But that's about as futile for me as losing a couple of pounds. I always seem to find them again a week or two later.
So, not to invoke any sort of alarm or panic, the below milestones are just a small list of events that many of us use to plan the time we have left in a given year. As of June 1, 2021, there are (give or take):
79 days till the local kids go back to school

100 days till

Paisley

Patch

Quilts 1st anniversary!

150 days till Kami's Birthday

153 days till Halloween

178 days till Thanksgiving

208 days till Christmas
No matter what activities and commitments you have in your life, I do hope you'll have plenty of time to successfully accomplish all of them in a timely manner. And, if you have a few minutes to spare, send them my way. ????
Happy quilting!
~ Beth, Kami, Robin, and Elizabeth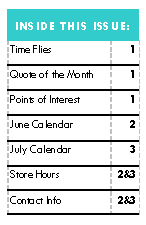 *We've had to change the formatting of our newsletter a bit. Links are no longer clickable.* *Please click here to access June Calendar*


*We've had to change the formatting of our newsletter a bit. Links are no longer clickable.* *Please click here to access July Calendar*