The Paisley Dis-Patch September 2021 Newsletter

September 2021 Volume 2, Issue 9
Hi Friends,
Children across the nation are going back to school and there seems to be a myriad of mixed emotions as moms and dads post "first day of school" pictures on Facebook and elsewhere. Some are feeling the angst of their first child going off to kindergarten. Others are feeling the pangs of their "babies" graduating in a few short months. As for me? I really didn't shed too many tears when each of them got on the school bus for the first time. I figured it was their time to stretch and grow in the capable hands of a dedicated teacher.
Reaching back to my own school experiences, I remember my kindergarten class being told to color an apple with a red crayon. My teacher, Mrs. Moses didn't want to see green apples or yellow apples, just red ones. When she reviewed my "masterpiece" she gave me a sour look and instructed me to color in the spots I missed. The result? Stifled creativity for several more decades. Needless to say, I am grateful for teachers that recognize and encourage the value of originality and imagination. Not all apples have to be red, nor does grass have to be green or the sky blue.
Mr. Jim Glennon was one of my high school history teachers and the football team's head coach. He taught his lessons like he was on the field, full of intense energy and fully invested in our education. I love history because of him. He instilled within me an appreciation for people and events that shaped this nation. I think that is partly why I enjoyed living in Virginia. We were surrounded by hallowed ground where Civil War events like the Battles of Bull Run, Manassas and Gettysburg took place.
Before the Civil War southern girls would travel north to attend boarding school and vacation with their families. Similarly, the northern girls would head south to also vacation, and find work as teachers. As a result, long-lasting friendships were created. When the war curtailed such activity, the women instead sent quilt blocks with inspiring messages written on them across the Mason/Dixon line to maintain those relationships.
To honor that history, our next quilting event is based on one or more block exchanges between quilters who lived along the eastern seaboard. Not only will we share the block designs, but also the stories that describe these wonderful women. We're excited about it and hope you'll find this an interesting and educational way to create your next quilt. (For dates and other information click here.)
Happy quilting!
~ Beth and Kami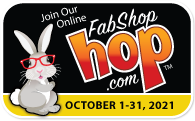 *We've had to change the formatting of our newsletter a bit. Links are no longer clickable.* *Please click HERE to access our monthly calendar*


*We've had to change the formatting of our newsletter a bit. Links are no longer clickable.* *Please click HERE to access our monthly calendar*